May your unfailing love be with us, Lord, even as we put our hope in you.  
This week I will not be joining you with a LIVE broadcast because I am attending the Celebrate Recovery Summit at Saddleback Church in Lake Forest, California.  I love the title of the Summit this year – SUMMIT OF HOPE. 
This annual gathering of over 3,000 people who were broken and hurting, but have been healed and transformed because they put their Hope in God gives me renewed energy each year.  I never get tired of hearing the stories because they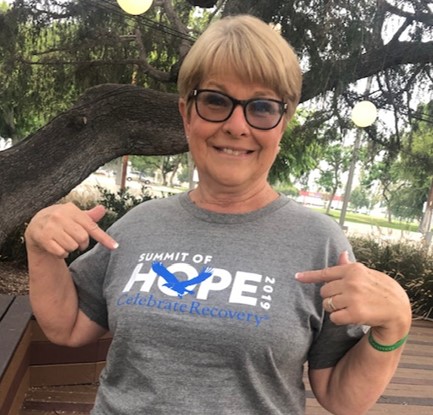 remind me of how our HOPE is found in Jesus, not in our children, not in our jobs, not in our spouses, and not in anything else outside of Him.   It also reminds me of how He does His best work of transformation in our lives when we are in community.  
That's why this community, the Hurting Moms, Mending Hearts (HMMH) community, is so important.  We support and encourage each other with our stories, our prayers, and our friendship.  We understand each other like nobody else understands us and by being part of the community we no longer live in isolated hopelessness because of the kids who are breaking our hearts. One of the things I love most about this Facebook page is seeing moms lifting each other up and helping each other through the roughest of times.  It blesses me to no end when I read your comments and see the sisterhood that we have, even though most of us have never even seen each other in person. 
This Facebook page is important in helping us to connect with one another so that we can offer and receive hope and encouragement, but the deep down healing and actual transformation takes place in the HMMH Breaking Free Groups.  I can't say it enough . . . if you have not participated in a 10 week group PLEASE sign up today!  You deserve it! In a group you will experience HOPE and your life will be transformed!  You will meet with other moms who are just like you and you will gain tools to help you navigate this journey of being a Hurting Mom.
Hebrews 10:24-25 says, "And let us consider how we may spur one another on toward love and good deeds, not giving up meeting together, as some are in the habit of doing, but encouraging one another . . ."
Are you ready to find hope in the Hurting Moms Community?
A Hurting Moms Breaking Free group provides a safe place where moms can come together in community and share with one another.  The groups give you tools to help you find hope as you begin to move away from your hopelessness and pain and learn how to draw closer to God. 
Register for a Breaking Free Group today

!